Hartford Courant DEADLY RESTRAINT
Investigation DATA BASE

Series Citation:
Weiss EM, et al. Deadly restraint: a Hartford Courant investigative report.
Hartford Courant 1998; October 11 – 15.

National Restraint Death Database
A team of Hartford Courant reporters and researchers has compiled the following national database, which is believed to be the first of its kind.
Representing five months of research, the database is intended to shed light on deaths tht occurred during or shortly after psychiatric or developmentally disabled patients were restrained or secluded.
The database documents 142 deaths from 1988 to the present [1998], as identified by public agencies, advocacy offices and news accounts. The reporting team focused on deaths in psychiatric hospitals, psychiatric wards of general hospitals, group homes and residential facilities for troubled youths, and mental retardation centers and group homes.
It is important to note that death following restraint or seclusion does not necessarily mean the institution provided deficient care. In New York state cases, where that information was explicitly provided, we have noted it.
This database provides as much information as could be gathered from public records, interviews and news accounts. In some instances, public agencies have withheld the names of patients or other details. New York, for example, keeps records of all deaths in which restraint may have played a role, but identifies patients by case number only.

Database
The database[s that follow are] organized by state, and then chronologically within each state.
Data Key:
N/A – Information not available
P – Physical restraint hold ... M – Mechanical restraint ... S – Seclusion
H – Hospital ... R – Residential facility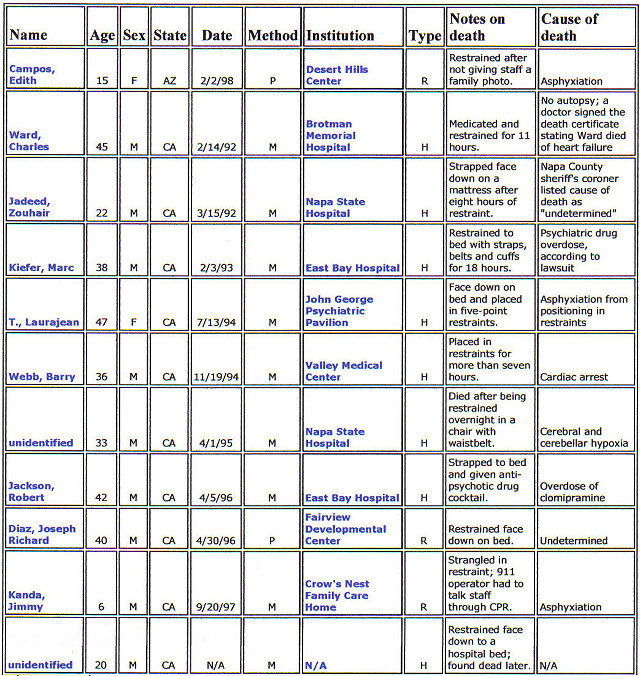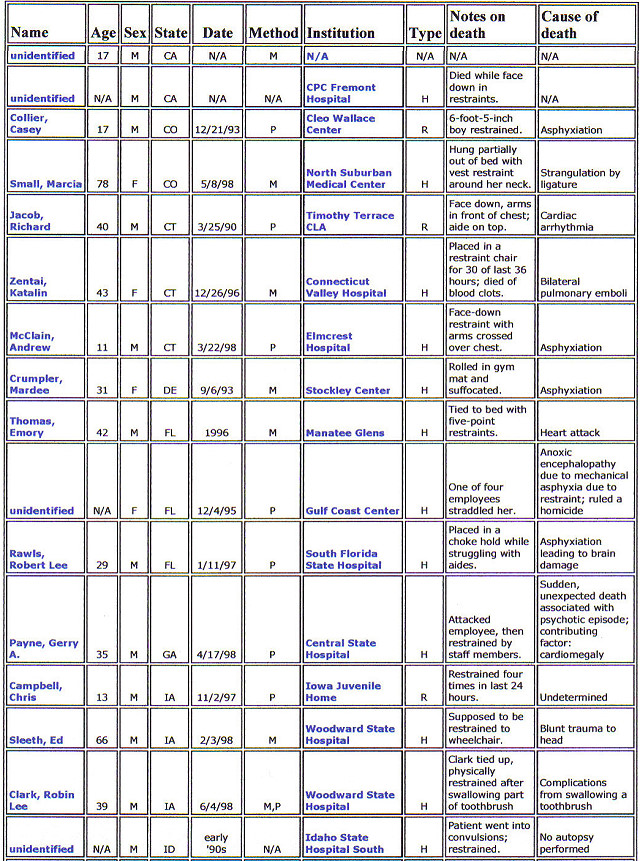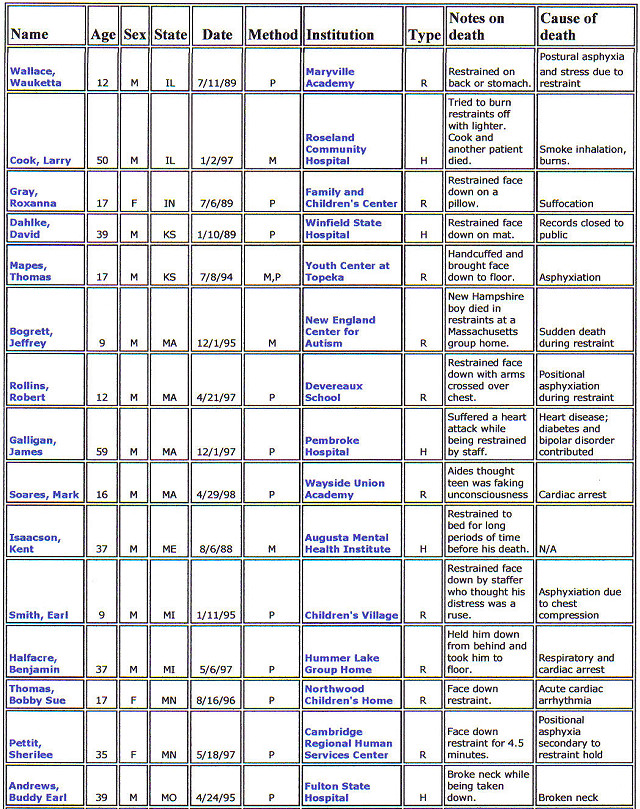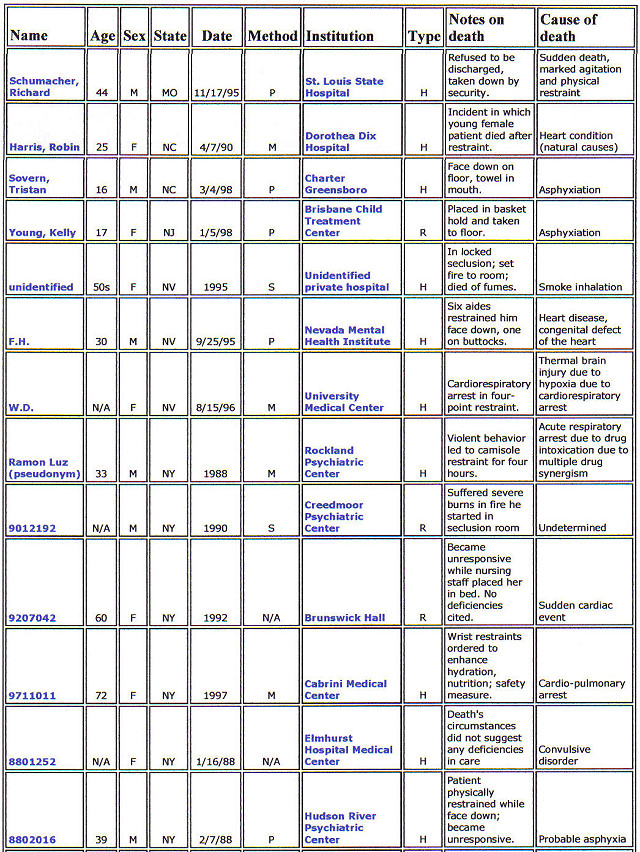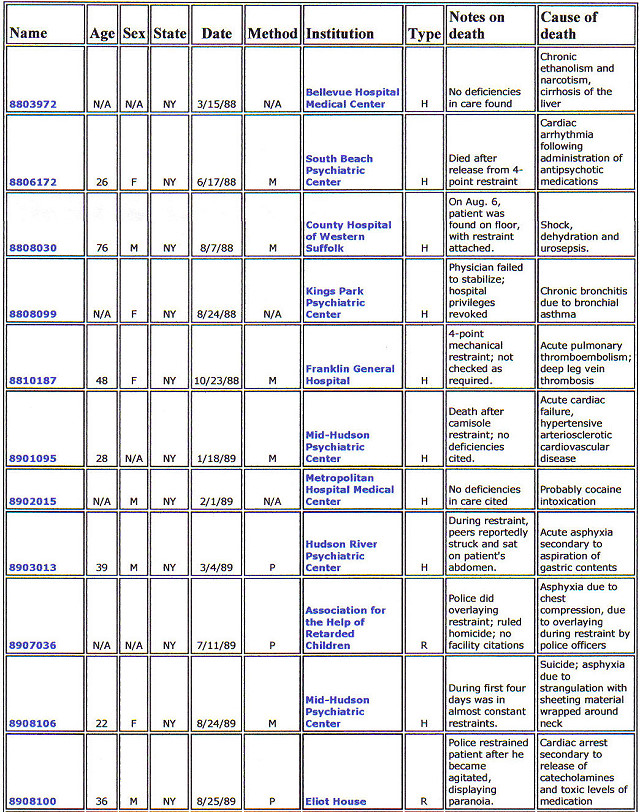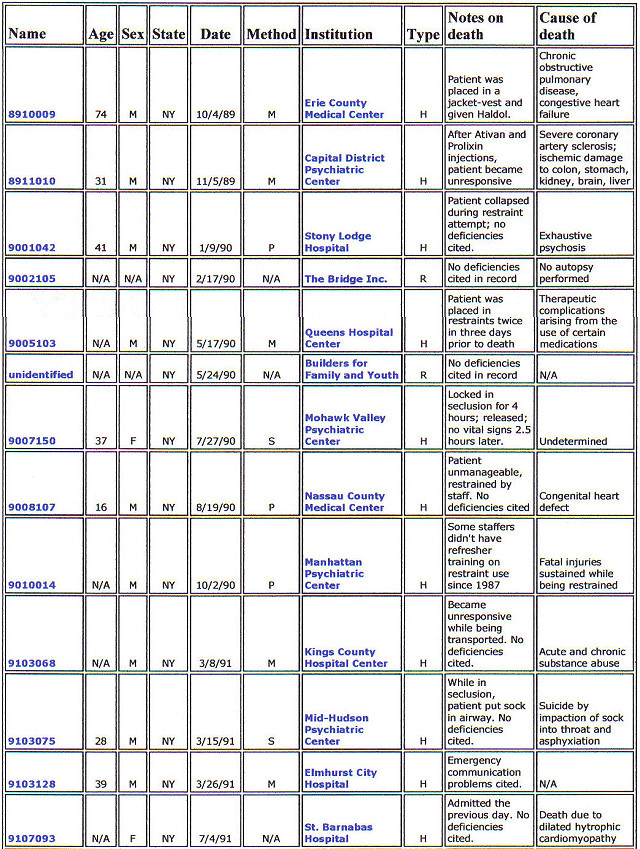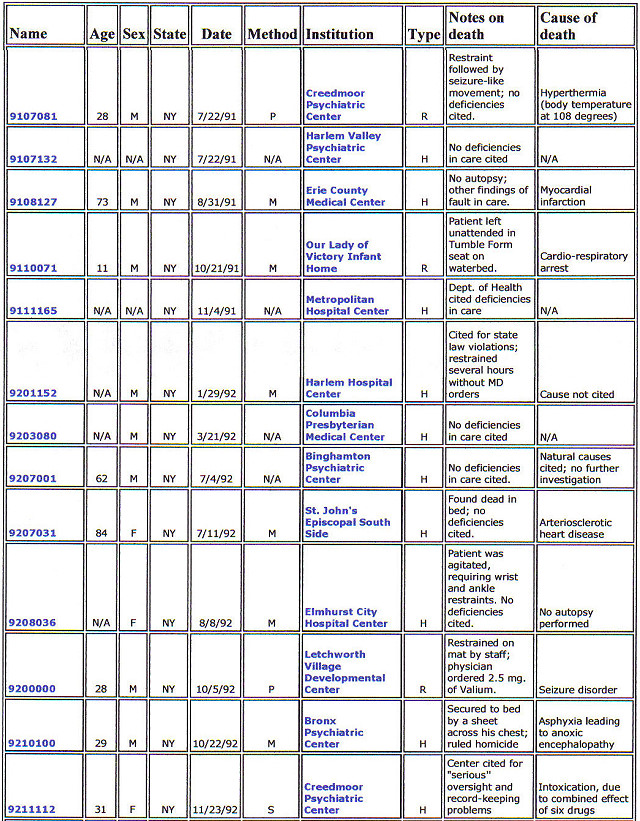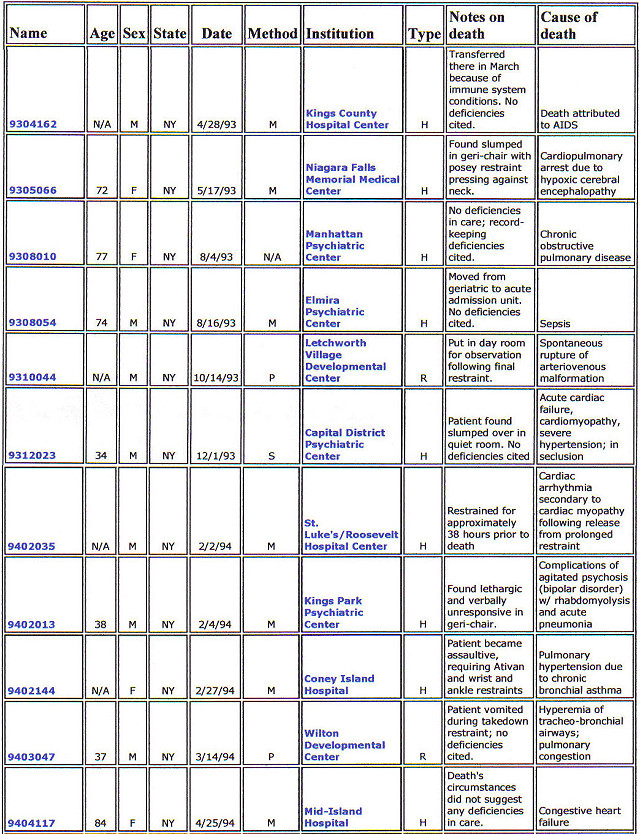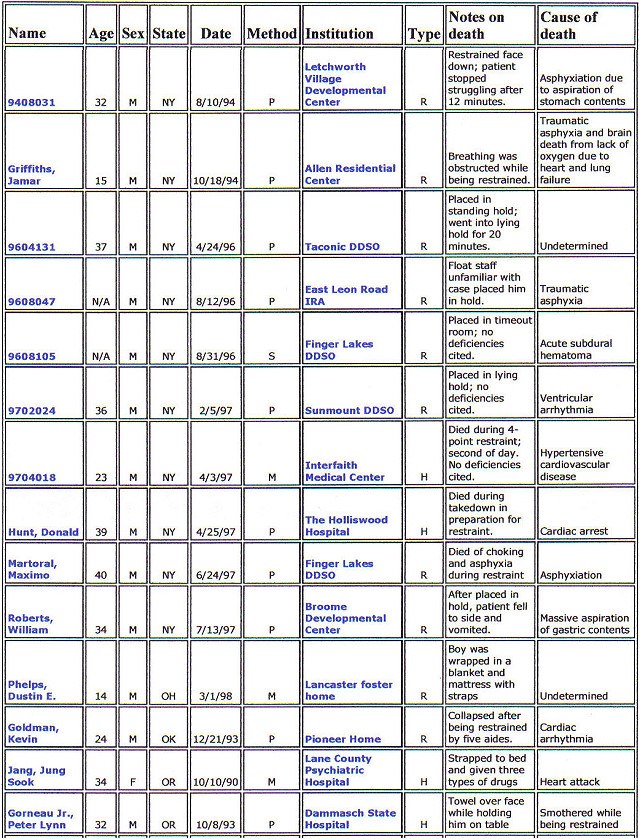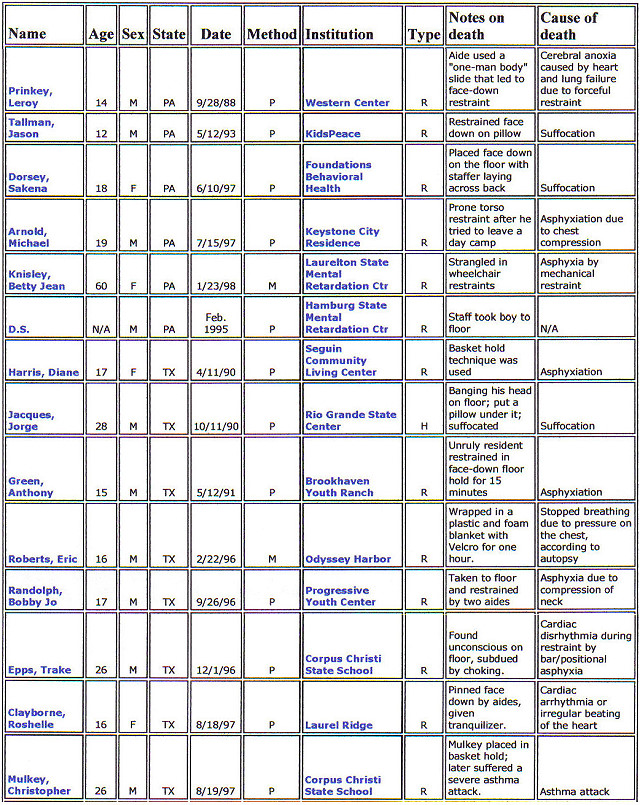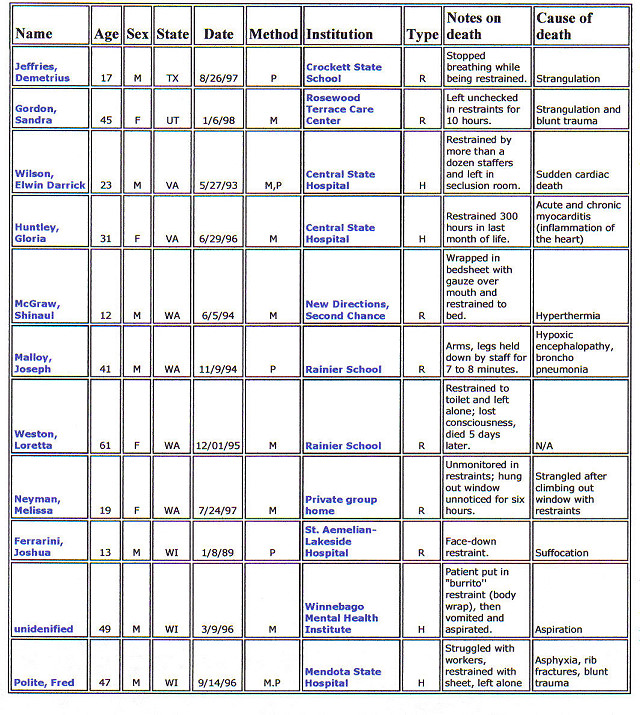 Deadly Restraint: A Hartford Courant Investigative Report
OTHER Page LINKS
DAY ONE; October 11: A Nationwide Pattern of Death
DAY TWO; October 12: Little Training, Few Standards, Poor Staffing Put Lives At Risk
DAY THREE; October 13: Patients Suffer In A System Without Oversight
DAY FOUR; October 14: People Die And Nothing Is Done
DAY FIVE; October 15: From "Enforcer" To Counselor
Hartford Courant October 17th-published Related Article:
REFORM URGED IN USE OF RESTRAINTS
U.S. LAWMAKERS RESPOND TO REPORT ON DEATHS
Hartford Courant October 24th-published Related Article:
GROUPS CALL FOR REFORM IN USE OF RESTRAINTS
MENTAL HEALTH PROVIDERS REACT TO REPORTS OF 142 DEATHS IN FACILITIES
Hartford Courant DECEMBER 16th-published Related Article:
USE OF IMPROPER RESTRAINTS WIDESPREAD, GROUPS SAY
How the Courant Conducted Its Investigation
"Glossary of Terms" used by the authors

USE YOUR BACK BUTTON
To Return To Wherever You Came From
OR:
Return to the Restraint Asphyxia LIBRARY
Return to the RESTRAINT ASPHYXIA NEWZ DIRECTORY
Return to CHAS' HOME PAGE


Email Charly at: c-d-miller@neb.rr.com
Those are hyphens/dashes between the "c" and "d" and "miller"
This COUNTER was reset July 31, 2002
(when my site moved to new Web Server)